Tag Archives:
Song
Now his latest legal woes involve small businesses illegally playing his music. Jay's been added to a laundry list of people taking legal action against entertainment venues guilty of playing his records without proper authorization.
Jay's signed on to court papers to sue "A Spot Of Tea" tea room in Alabama. The establishment which turns into a club at night is accused of playing Rihanna's Umbrella without permission. According to the lawsuit, the makeshift club played the song along with a number of other unauthorized tracks before being discovered by the American Society of Composers, Authors and Publishers or ASCAP.
The lawsuit is actually acting in conjunction with Universal Music Group's lawsuit against small businesses playing music without paying for the rights.
For all those wondering what Rihanna's "Umbrella" has to do with him, Jay is a co-writer of the song along with several other tracks on her Good Girl Gone Bad album.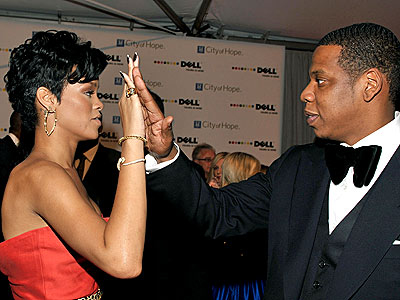 Pop star Rihanna did not debut Top 3. She Came in @ #5. Behind feel-good story of the year, Susan Boyle, controversial dancer Adam Lambert, Lady Gaga's mini EP (Gaga also sold 144k of her Fame album up +398%), & Andrea Bocelli 215k. Ri-Ri's Rated R premiered at #5, selling 181,000 units. The dark Def Jam relationship-rebound release has been met with mixed reviews, from one of the label's biggest stars.
Michael Jackson could be platibum after next week. The This Is It collection includes Jackson hits like the
Hip Hop favorite "Human Nature" various demo and single versions of other hits throughout the last three decades. The work fell two places to #4 from last week.
50 Cent's potential last album from Interscope remained in the Top 20 for its second (charted) week. Before I Self Destruct boasts two bonus films, and some of the best critically-received work the Queens superstar has delivered since The Massacre.
Speaking of, The Black Eyed Peas climbed four spots with The E.N.D. The Electro-Pop work may be a departure from even the group's more recent two albums, but the
Good Life-birthed outfit remains an underground Hip Hop success story.
Jay-Z bounced back into the chart-twenties again with Blueprint 3. The Atlantic Records-distributed effort is within 100,000 units of Black Eyed Peas, for overall 2009 sales. After that, all that remains is another 100,000-plus units in Eminem's Relapse as 2009′s top-selling Rap album.
Cash Money Records loves Black Friday. Birdman and Jay Sean both debuted within five places of each other, collectively scanning over 60,000 units. The young Pop star nearly topped the label co-founder, as both are stars of radio in 2009.
Another label founder, Damon Dash, found success in BlakRoc. With only three days on charts, the self-titled project from The Black Keys that found Hip Hop guests including Jim Jones, M.O.P. and Mos Def debuted at #125. This may be the most successful Dame Dash project since Beanie Sigel's The B.Coming.
Rakim slid to #147 with The Seventh Seal. The album, released through Bay Area's SMC Records, featured an appearance from Maino, and production from Jake One, Nottz and longtime affiliate Nick Wiz. The effort is SMC's most successful project this year, who also released projects from Capone-N-Noreaga and The Jacka.
Pittsburgh's Wiz Khalifa, a DXnext alum, made it to the Soundscan charts for the first time in his career. Deal Or No Deal, released on iHipHop/Rostrum Records, scanned just under 6,000 units. The project features former Young Money star Curren$y, and marks Wiz's first nationally-distributed album.